New York City—probably my second favourite metropolis after Tokyo, based on a handful of visits to both and weighed up against the influence of popular culture that has seeped in over the years.
Following a 2019 venture to the Japanese capital, resulting in the unnecessarily long scrolling website eightdaysin.tokyo, and with limited travel on the agenda for the foreseeable time ahead (in case you are reading this sufficiently far in the future... look up 2020–2022); I decided to scour through the many photos accumulated from the Big Apple over the years and see if they could be put to better use than sitting on a dusty hard drive on the shelf.
The result is an even longer, patience-testing overly indulgent assortment of observations and diversions from trips between 1998–2015—I haven't been back since the reign of the orange one and the trials of the past two years, hoping to make another pilgrimage in happier times.
Expect to find a mixture of old photos and drawings, some previously shared on various platforms, others not, in addition to new graphite and coloured pencil illustrations since rediscovering the medium after a 20+ year break.
The anticipation provoked by the standard issue water, juice and coffee—a chance to both hydrate and wake up—is almost better than the stack of pancakes with bacon and maple syrup which you know is coming and bound to be over before you even know you've reached full stomach capacity.
Still, what better way to kick off a day exploring New York City than a real American breakfast. Sadly the Bowery Diner in Soho (right next to the excellent New Museum) is no more but I have fond memories from several jetlagged but resuscitating early morning visits.
I couldn't begin to dream of making a dent on the rich and storied history of street photography in New York – arguably the capital of the world for this particular branch of photography (not to dismiss Nègre / Bresson's Paris); but there is nothing more inspiring to me than heading out the door of the hotel or Airbnb into an unfamiliar area with a pair of trainers and a camera strapped around my wrist, ready to explore.
Taking inspiration from local greats of the genre Joel Meyerowitz and Elliott Erwitt and other more contemporary photographers such as Matt Anderson but with decidedly less courage (and often a non-orthodox 135mm prime lens which is surely frowned upon by purists as it allows you to get shots from afar without being in the middle of the action), I take to the streets and attempt to document the city as it is.
Sometimes you get happy coincidences, sometimes there could be a deeper meaning, or some humour; other times a frame might just be aesthetically pleasing. By combining elements through layers in space, with observation and patience you can create your own unique vision of a particular place at a particular moment in time, never to be repeated.
Employees must wash hands.
1998
December 1998. 18 years young, OK Computer still permanently glued to my Discman, US air strikes on Iraq, the introduction of the Euro currency and me studying fine art in my final year at high school in the south of England. I found myself in the lucky position of being on the list for a school first: an art-trip to New York with my 20 or so classmates for a week. Being given the opportunity to witness a pre 9/11 and therefore very different New York even for a small slice of time was, with hindsight, priceless.
Memories of this first trip, other than the freezing cold and being one of the few in the group legally old enough to buy (and therefore being the defacto procurer of) cigarettes for the smokers, revolve around the introduction to observation and documentation with a Single Lens Reflex camera, borrowed from my parents.
Thanks to my inspirational art teachers Terry Sweeney and Julian Hyzler—the latter giving me an introduction to and basic understanding of the interplay of shutter speed and aperture—I found myself having a formative experience with the camera; experimenting with street documentation and especially a series of long, ghostly exposures, resulting in a loosely conceptual oil painting based on human movement. Included here for the sake of the story, if not for originality or execution.
Little did I know that I would largely ignore photography for almost the entire following decade, rediscovering the initial spark upon acquiring my first digital SLR in 2007.
People
of
Times
Square
ATM
Mapping some of the endless variations in design of automated teller machines. A 50 year-old endangered species?
Are there regulations? Can one just put any old collection of letters, graphics and machinery together in an attempt to lure in the hapless cash-requiring pedestrian? Is there an overall system? Someone who has done more research than me probably knows the answer to these questions, but I was too busy figuring out how to create and animate a variable font of four glyphs to check.
In any case, I can only assume that the answers are no, yes and no; and for that we should be thankful because what a bounty of treasures there is to be found on the streets of New York City.
We should also be grateful for the obligatory customisations by creative members of the public, guaranteeing that no two machines will ever be found alike (I am willing to be proven wrong).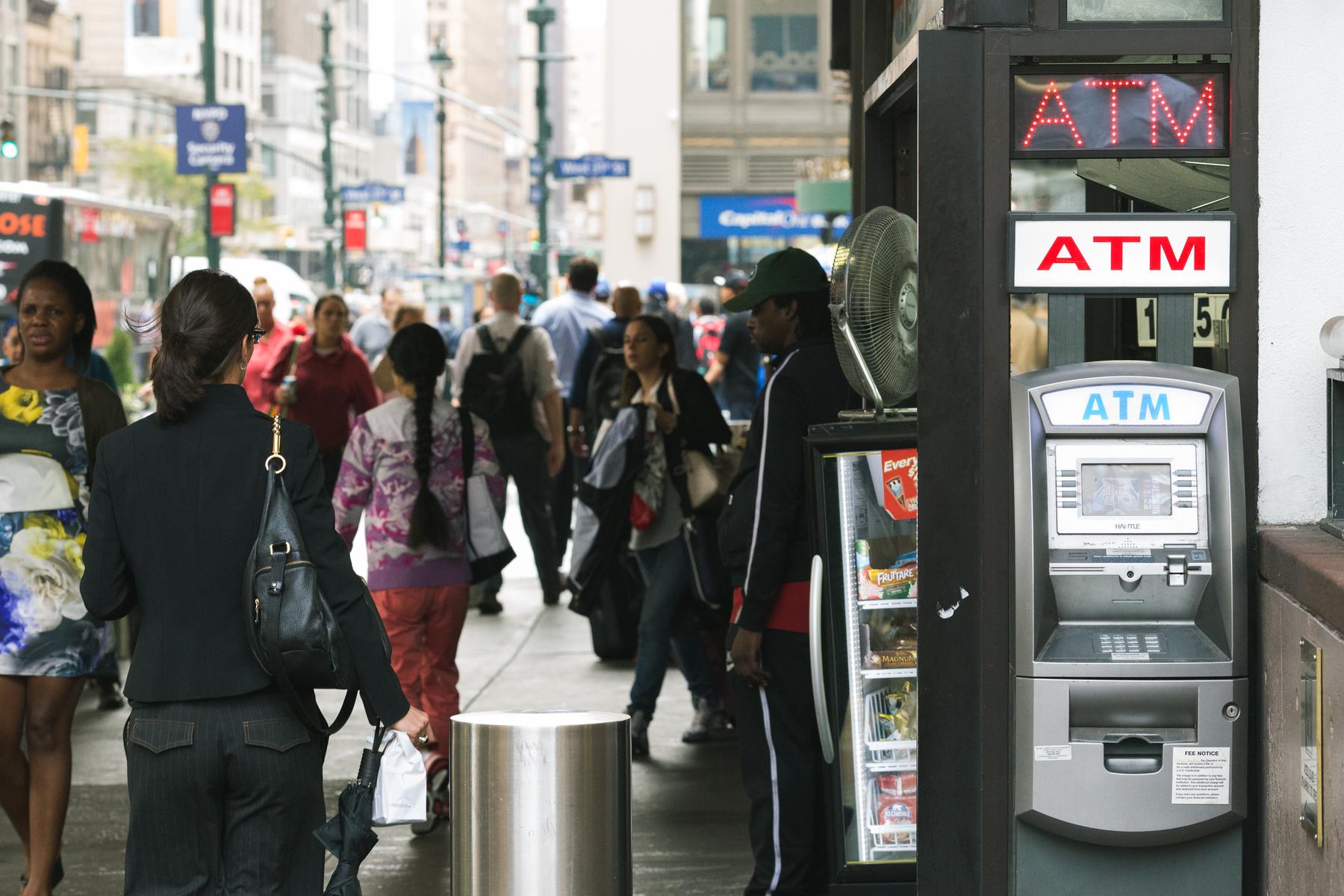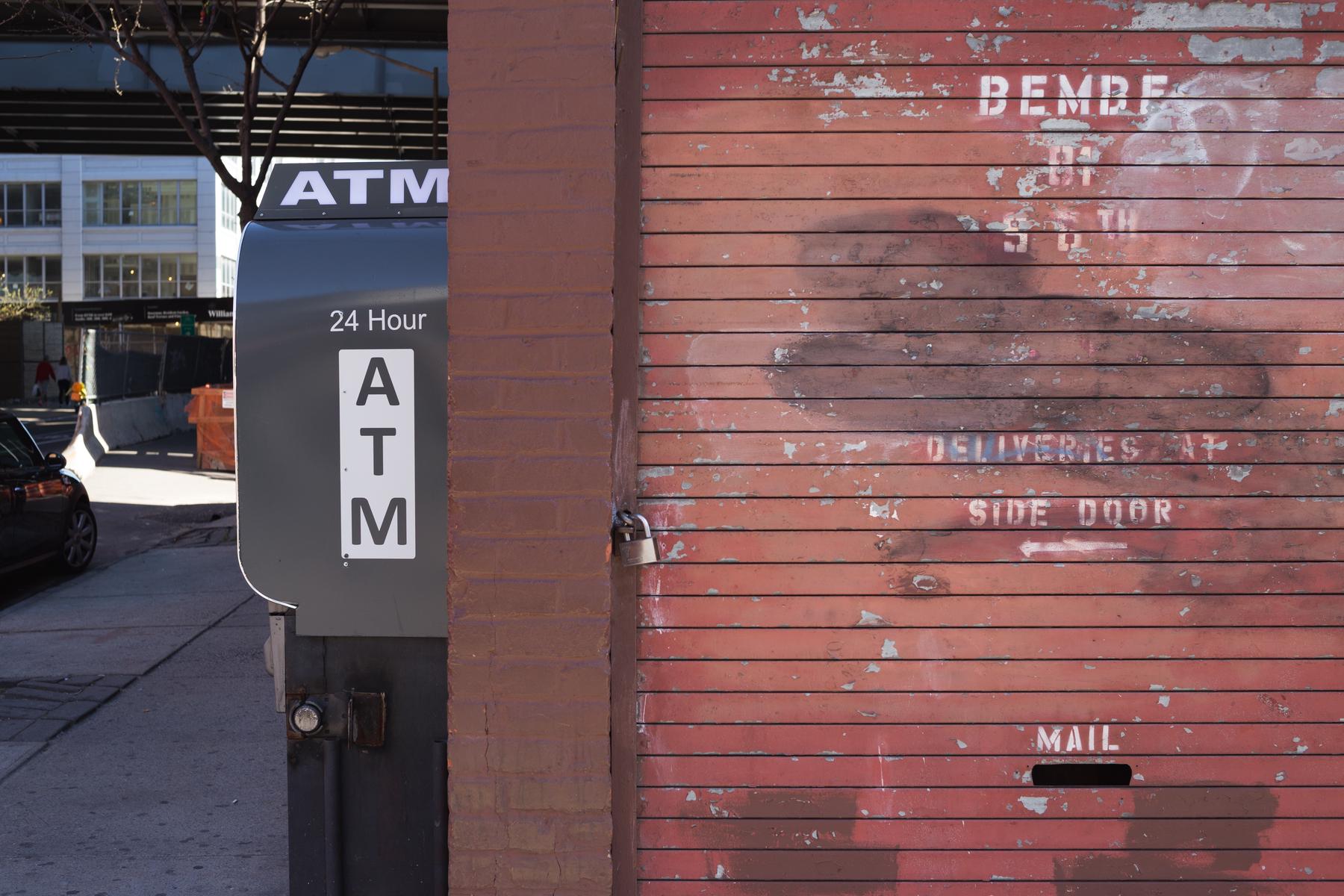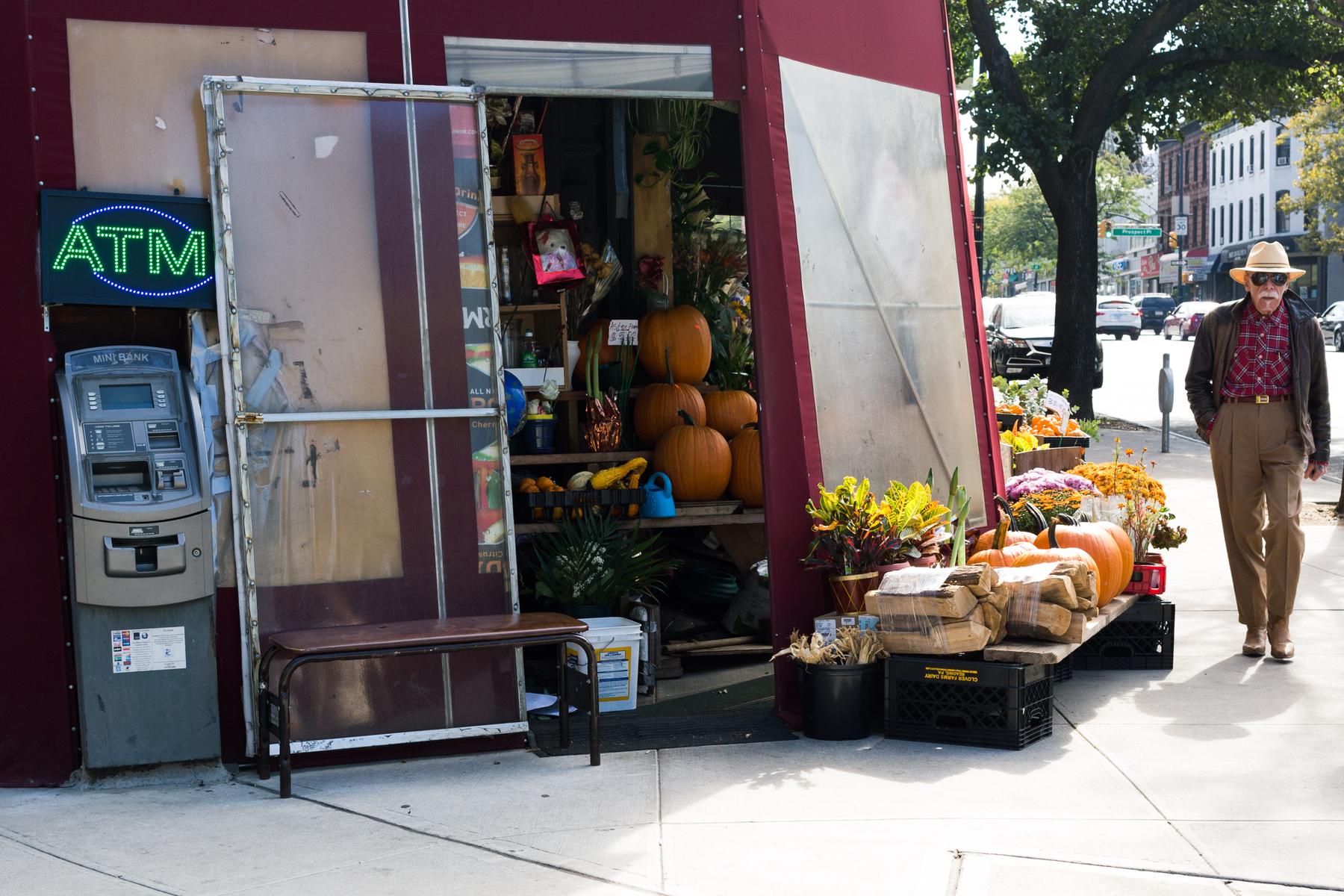 To make a comparison to the Japanese capital—for me, one of the key differences between Tokyo and New York for the curious human with a camera, other than vastly different levels of street-level cleanliness, is the ability to wander through consistent city more easily in the five boroughs. While wandering through the streets of Tokyo is always interesting, for sheer solid city and grit, you can't beat the grimier streets of NYC.
Walking through Lower East Side, one can experience vibrant streets and the mixture of both service related workers frantically ferrying around goods contrasting with tourists and the permeation of cultural venues throughout, from a myriad galleries such as the aforementioned New Museum, and reknowned music venues such as the Bowery Ballroom, not to forget the historical importance of the now closed CBGB, hallowed grounds for music fans.
There is nothing particularly insightful I can say about the New York Police Department, though it's worth noting their occasional choice of transportation: Ape 50, Three-wheeler Segway chariots—it might not be a stretch to label them as slightly ironic, given the oppressive force police can represent for many in America.
Wouldn't it be great to see helicopter news coverage of a fleet of Segway chariot and Ape 50 police chase the baddies through the streets of New York?
Walls
Instead of taking the L or F train from Manhattan to Brooklyn, why not get a different perspective if you have some time to kill and take the long route, either over the Manhattan bridge into Dumbo or the Williamsburg bridge into the heart of Williamsburg. You will not be missing the iconic Kentile Floors sign, previously viewable from the train, since it was torn down in 2014.
Given the current state of disarray in US politics and the widespread anti-immigration rhetoric it is worth reminding ourselves how the United States is, in fact, a nation of immigrants.
"New York is the state with arguably the strongest connection to immigration in America - hundreds of millions of Americans can trace their immigrant ancestors to the port of New York, which has been a destination of immigrants for over four centuries."
—Frederick Wertz
It is fascinating to me that within a day on foot, one is able to experience such diverse congregations of cultures and ethnicities. Walking for example from Soho, though Chinatown and Lower East Side and over the bridge through the Hasidic Jewish community in Williamsburg (numbering ~57,000), for example, feels like visiting vastly different self contained worlds.
Of course this is just a surface level observation not taking into account the great demographic variety of the city, which would be remiss not to explore further on subsequent visits.
On a purely dollar cost per minute basis, my 15 minutes in the air would be hard to justify if it were not for the once in a lifetime experience the HeliNY tour provided.
If you have the opportunity and can spare the expense, I guarantee that the seemingly miniscule amount of time in the air is a worthwhile endeavour. My first time in a helicopter, I must admit to being a little nervous, but once we lurched forwards from the landing area I was fully engrossed in the balancing act of just appreciating the sights with my own eyes, and snapping pictures which I would not have been able to capture any other way.
Unfortunately there were not a whole lot of keepers due to the thick windows, vibrations and resulting distortion and blurring.
The Intrepid Sea, Air & Space Museum, on the west side of Manhattan is well worth a visit especially if you, like I, like to check out claustrophobic human made contraptions like the USS-Growler submarine from the inside.
How we are able to construct such complex machinery is beyond me but the endless array of switches, dials, meters and things that needed to be designed is fascinating and bewildering.
As part of a trip with my Netlife colleagues, we participated in a so-called Missioncamp. Full credit goes to João Doria and Linn Eriksen for holding a fantastic workshop; a project entitled "1000 photos / 1000 ideas". This explored ways of seeing, documenting with cameras, editing material and designing layouts resulting in 500 broadsheet newspapers, produced at Linco printing press on Long Island City.
If I have one regret, it is not accepting the invitation to witness the majestic machinery in action with João and Linn (printing press images and video courtesy of them ①②③④).
Each of the 8 participants Andreas Qvenild
Camilla Holcroft
Dag-Henning Brandsæter
Eivind Lund
Renata Barros
Tormod Nordsletten
Myself
Øyvind Storli Hoel in our group was assigned a double spread based on the edited output from various explorations around the city, and João and Linn were ultimately responsible for pulling it all together and overseeing printing. Not an insignificant task given our 5 working days in the city.
Many of the newspapers were given away at a pop-up design conference organised at the end of the week by another group from Netlife.
I can't really say what it was all about; the concepts behind each spread are likely lost in the mists of time and with their respective architects—but we made a newspaper. In New York!
All ~2500 raw images from the group in 30 seconds, with borrowed creative process thoughts and soundtrack created on the plane somewhere over the Atlantic.
Without pretending to have any deep insights into New York culture and society but having been fortunate enough to travel a number of times to this most accessible-to-europeans American Metropolis; I like to think I have gathered my own limited but unique appreciation for the sheer size and diversity of what's on offer in this iconic city.
How much is either based on nostalgia from New York in the movies and popular culture at large versus rose-tinted memories of these past trips is debatable... all I have to go on are memories and an archive of photos which I hope have been edited and pieced together in a semi coherent manner. Maybe these can inspire others to take note of often overlooked details in their environment, and not least of all to explore NYC (on foot!), if the opportunity arises.
Given the state of the environment and a threatened planet, I don't feel great about having taken several but ultimately short trips to the same place, involving long haul transatlantic flights. If anything, making this site feels like a way to offset that guilt by using the experiences and material to somehow contribute to culture rather than keeping them to myself, unused. Having said that, loading all of these images over the internet is not great, carbon wise, either so I'm probably a hypocrite anyway; hopefully if you made it this far it was worth it.
Nonetheless, maybe we could all reassess the material and experiences we already have and make something of them rather than always having to create new ones.